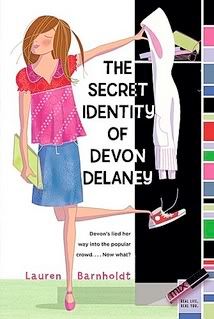 Click here to order THE SECRET IDENTITY OF DEVON DELANEY!
This week, I have the pleasure of hosting Lauren Barnholdt, whose book THE SECRET IDENTITY OF DEVON DELANEY is launching the new Simon and Schuster MIX line for tweens.
Mom says karma always comes around to get you, and I guess it's true. Because last summer I was a total liar, and now, right in the middle of Mr. Pritchard's third-period math class, my whole world is about to come crashing down…..
That's because while Devon was living with her grandmother for the summer, she told her "summer friend," Lexi, that she was really popular back home and dating Jared Bentley, only the most popular guy at school. Harmless lies, right? Wrong. Not when Lexi is standing at the front of Devon's class, having just moved to Devon's town.
Uh-oh.
Devon knows there's only one way to handle this -- she'll just have to become popular! But how is Devon supposed to accomplish that when she's never even talked to Jared, much less dated him?! And it seems the more Devon tries to keep up her "image," the more things go wrong. Her family thinks she's nuts, her best friend won't speak to her, and, as if it's not all complicated enough, Jared starts crushing on Lexi and Devon starts crushing on Jared's best friend, Luke. It all has Devon wondering -- who is the real Devon Delaney?
Lauren answers my GCC Tour Questions:
HOW WOULD YOU DESCRIBE YOUR TYPICAL "WRITING DAY"? I don't really have a typical writing day. I like to mix it up. Sometimes I'll stay in bed with the laptop, or head out to Barnes and Noble. I like to have coffee or Diet Coke with Lime. I always set a word count goal for the day, too – I find it helps if I have something to work toward.
DO YOU RECALL THE KERNEL OF INSPIRATION FOR THIS BOOK? When my friends and I were in junior high, we were dating this group of guys from another school. So we made it seem like we were super popular at our school, and that all the boys wanted us. Which wasn't even close to being true. One night some of the guys we lied to played basketball against some of the boys from our school who supposedly wanted us, and I just kept thinking, God, I hope none of them talk. And that was the inspiration for THE SECRET IDENTITY OF DEVON DELANEY. Only, unlike in my situation, poor Devon's lies catch up with her.
PICK A CHARACTER IN THE BOOK AND TELL US WHAT TRAIT YOU SHARE (OR COME CLOSEST TO SHARING) WITH THAT CHARACTER. I think my junior high self was a lot like Devon – had very good intentions, but was slightly misguided in some ways!
IF YOU WERE STUCK ON A DESERT ISLAND , WOULD YOU RATHER HAVE A MAGICAL TRUNK THAT GAVE YOU LIMITLESS BOOKS TO READ, OR A LIMITLESS SUPPLY OF PAPER ON WHICH TO WRITE? Books
BEER OR WINE? Neither, really. I'm a total lightweight when it comes to alcohol. I'd rather have one of those drinks that's mostly ice cream.
CHOCOLATE OR VANILLA? Vanilla.
WHAT'S YOUR ALL-TIME FAVORITE BOOK? The Catcher in the Rye by J.D. Salinger.

Want to know more?
Here's Lauren's bio: Lauren Barnholdt's first book for teens, REALITY CHICK, was a Teen People Can't-Miss Pick and a New York Public Library Best Book for the Teen Age 2007. In junior high, she was known to have a few "secret identities" of her own. She currently resides in Boston, Massachusetts, where she's hard at work on her next book.
Visit Lauren online at
www.laurenbarnholdt.com
or
www.livejournal.com/users/laurenbarnholdt