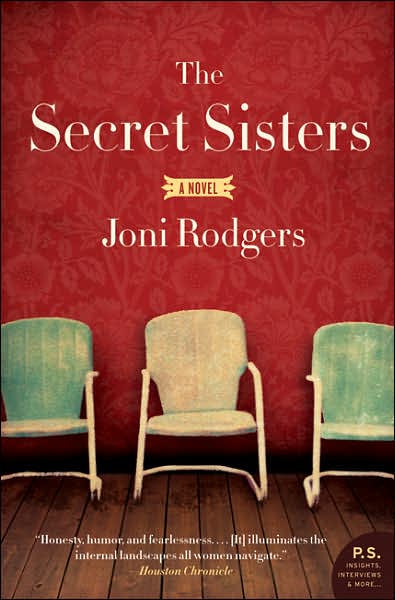 Order the book!
Currently touring with the GCC is Joni Rodgers and the mass market release of THE SECRET SISTERS. I've got this one in my TBR pile. Can't wait!
Exploring the timeless themes of family, self, misfortune, and hope that have made the novels of Anna Quindlen and Sue Miller bestsellers, Joni Rodgers's moving and powerful tale tells the story of three women bound together by loss and set free by love.
Pia feels the walls of her life closing in around her, until she discovers a strangely sensual world that leads her to a new existence. Lily, Pia's brash, tough-talking sister, makes a tragic mistake that leaves her incarcerated, body and soul, but in the prison library discovers a key that will unlock her mind and open her heart. Beth, married to Pia and Lily's brother, has never been able to admit her own failure as a mother. Finally forced to confront a tragedy of her own making, she discovers that the truth can set her free.
Praise for The Secret Sisters
"Believable...brilliant...beautifully written..." Armchair Reviews
"Honesty, humor, and fearlessness...(Rodgers) illuminates the internal landscapes all women navigate." Houston Chronicle
"A page turner, full of surprises, insight, and spine-tingling erotica..." Helena Independent Record
"A rough gem of a narrative...Pia's tale has it all: death, danger, sexual discovery, and resurrection." Missoula Independent
"An emotional maelstrom worth getting wrapped up in." Easton Express-Times
"A modern tragedy...Rodgers wisely resists the temptation to whip up tidy endings, and her smart choices give The Secret Sisters the necessary measure of grit." Texas Monthly
Here are Joni's answers to my GCC questions:
HOW WOULD YOU DESCRIBE YOUR TYPICAL "WRITING DAY"?
What? There's such a thing as a typical writing day? Why was I not informed of this?!
DO YOU RECALL THE KERNEL OF INSPIRATION FOR THIS BOOK?
THE SECRET SISTERS began with an erotic short story I tucked in my husband's suitcase as a sexy little surprise when he went away on a fishing trip to Cabo San Lucas. The story about the shopkeeper/con artist Dalphine was never intended for publication, but the characters stayed with me. I kept dreaming about Pia sitting in a chair in a waiting room. I kept wondering how this smart and competent woman had become so vulnerable. Then the world changed on 9/11. Over the next year or so, I saw our country embrace fear as a lifestyle, and it was eerily reminiscent of my own fragile and fearful state in the aftermath of cancer. THE SECRET SISTERS is my response to that. It's a parable about how vulnerable we become when we embrace fear as a lifestyle. It's also an examination of the way that tragedy can – and should! – change us. Survivorship is about accountability, courage, and hope. As we emerge from life's refining fires, we have to learn from our mistakes, celebrate our strengths, and seize hold of every new day with joy. I finally understood what Pia was waiting to tell me: That redemption is tragedy cross-pollinated with grace.
PICK A CHARACTER IN THE BOOK AND TELL US WHAT TRAIT YOU SHARE (OR COME CLOSEST TO SHARING) WITH THAT CHARACTER.
When family tragedy leaves her shaken to her core, Pia is seized by a panic disorder that has the walls of her world closing in around her. As I researched agoraphobia, some of the symptoms began to feel uncomfortably familiar. Writing is of necessity a lonesome task, and since my kids went off to college and I've become more focused on my craft and career, I've become more and more of a hermit. This realization prompted me to pay attention to some friendships I'd let slide and to seek out some new writer friends to network and socialize with. I joined The Midwives, a critique group of accomplished women authors. Best thing that's happened to me in years, both professionally and personally.
IF YOU WERE STUCK ON A DESERT ISLAND, WOULD YOU RATHER HAVE A MAGICAL TRUNK THAT GAVE YOU LIMITLESS BOOKS TO READ, OR A LIMITLESS SUPPLY OF PAPER ON WHICH TO WRITE?
If you stop reading, your writing is going to shrivel up and die, so I'll take the books and write on the endpapers.
BEER OR WINE?
My husband's homemade pinot grigio is pomegranate-nuanced orgasm in a bottle.
CHOCOLATE OR VANILLA?
I used to be a major choco-holic, but ever since chemotherapy, the smell and taste of it make me nauseous. How sad is that?!
WHAT'S YOUR ALL-TIME FAVORITE BOOK?
SIDHARTHA by Hermann Hesse. Whenever the vagaries of the publishing biz start to overwhelm, I try hard to remember the mantra of the emerging Buddha: "I can fast, I can pray, and I can wait."
About the Author
Joni Rodgers, a Houston author who ghostwrites celebrity memoirs between novels, has a unique take on the popular idea that everyone has a book in them. "Everyone has a story in them," says Rodgers. "But everyone has a pancreas, too. Only in rare cases should it be taken out and displayed on a shelf."
The ghost gigs pay well and make for "some interesting elevator rides", but Rodgers is selective about new projects. "It takes a compelling client to drag me away from fiction, my first love." Rodgers' latest novel The Secret Sisters (Harper Collins 2006) comes out in trade paperback this week with an added "PS Section" in which Rodgers discusses the story behind the book. The added material is bound to generate some juicy book club discussions. "I can't wait for the sparks to start flying," says Rodgers, who intended the story of a woman's struggle with agoraphobia to be "a parable about how easily exploited we are when we embrace fear as a lifestyle."
Joni is a long-time wife, ridiculously proud mother, and doting dog owner. She divides her time between Houston and New York City.
Visit Joni Rodgers on the web at
www.jonirodgers.com
Joni Rodgers blogs about the writing life on "Boxing the Octopus":
http://boxingoctopus.blogspot.com